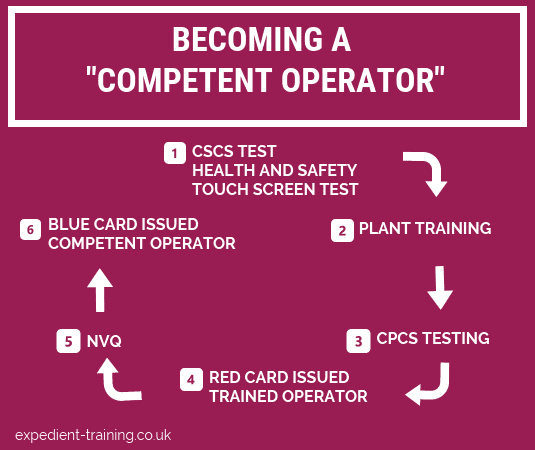 The CPCS scheme has three types of card
The trained operator card – Red Card
The competent operator card – Blue Card
The tester card
Theory and practical tests are taken by the applicant at an approved CPCS test centre. Expedient are an approved test centre.
On top of these tests, it is important to be able to demonstrate experience and expertise through ongoing documentation.
The red card
The trained operator card, also known as the red card is issued when a candidate passes a CSCS test and a theory and practical test. This card is non-renewable and has a two year expiry window.
This can be gained within a week via Expedient.
The blue card
The competent operator card, also known as the blue card, is issued after the candidate has demonstrated competency through an NVQ.
This is valid for five years, is renewable, and proves competency making this the preferred card type for both card holders and employers.
It is then renewable by sitting an online test.
The tester card
The tester card, is issued to individuals who have demonstrated in depth knowledge and ability in relation to all plant operation environments. This card demonstrates that the holder is qualified as a tester for the CPCS scheme.